You can't deny that a bass guitar is a fun and interesting instrument to play. Bass guitars not only add depth but also outstanding musical texture to different sorts of music, from pop to jazz. Whether you've been utilizing a rental guitar or you're yet to play your maiden few notes, you will be thrilled with the feeling that emanates from playing your own instrument.
Bass guitars widely vary in price and quality. Therefore, when in the market for your first bass guitar, you must have a criteria to help you land the best one. Are you a beginner that's unsure of his/her dedication or talent to learning to play a bass guitar? There are plenty of good and affordable ''starter'' bass guitars out there. All you need is to adhere to the tips contained in this primer.
"When shopping for the best bass guitar, it's normal to get confused…"
The following will certainly be handy to help you choose the best first bass guitar:
1: Consider Well-known Brands
Bass guitar brands such as Gibson and Fender have surely made their mark in the industry. You can always rely on such brands for excellent sound and consistent quality. Some of the other guitar brands you can trust are Epiphone, Squier, Music Man,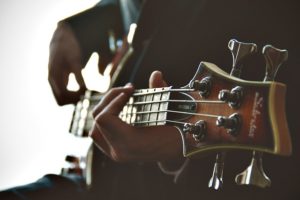 , and Rickenbacker. Settling for a reputable brand guarantees you value for money in the long term.
 
2: Consider Discipline
Bass guitars produce different sounds. What does this mean? It simply means that some bass guitars are better for particular disciplines compared to others. For instance, those interested in playing metal or playing rock, you should settle for a bass guitar that features a powerful punch with much resonance. Experts recommend the Epiphone bass guitar for rock musicians. It's an excellent choice for newbie rock bassist.
 
3: Avoid Cheap Bass Guitars
Sadly, not many cheap bass guitars boast high quality. It's highly important that your first instrument be of high quality. In most if not all cases, cheaply manufactured guitars usually lack the full rich sound, which makes them appealing. Cheap bass guitars rarely hold tune correctly which certainly leads to frustration and improper learning. Frustration makes you lose your desire to play. Ultimately, you'll turn out to be a failure. Obviously, this is the last thing you want. Consequently, to avoid all this, it's prudent to buy a quality bass guitar regardless of its price.
 
4: Take an Expert with You for Shopping
It's always a great idea to take an experienced bass player with you when stepping out for shopping for the best guitar. Experienced
guitar players boast the experience playing an array of guitars hence they can be handy to assist you make the right decision in terms of technical aspects instead of looks alone.
5: Don't Ask Your Mom's Opinion

Mothers aren't people who should advise you on guitar choice. Based on example of perverted moms (the newest production of Team Skeet, where step-mothers are seducing their step-sons) all you can expect from them is some low-quality advice on silly things. Or how to have sex – based on what they present on Perv Moms 🙂
When shopping for the best bass guitar, it's normal to get confused. The numerous technical terms and brands don't make matters any better. At times, the same manufacturer employs different terms to describe various bass guitars. Fortunately, you don't have to have a rough time when selecting your bass guitar. By putting the above tips into consideration, you'll certainly land the best bass guitar.